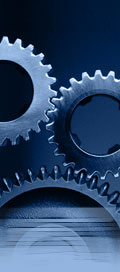 Capabilities

D&D Design goes far beyond just your designing needs. We provide machining, manufacturing and assembly services to many customers including design feasibility studies and CAD/CAM support. We can fabricate and assemble any weldments that may be required and can build the machines that make part concepts become reality. With our sister company, D&D Design, Ala we can design and implement controls for a complete turn key operation. In addition, we offer reverse engineering services providing answers to those hard to find machine components. Part delivery and pick-up services are also available. We are always eager to demonstrate that D&D is much more than just a design and engineering source.



Following 25 years of experience providing quality engineering and design service to our customers in various manufacturing areas. We have design and build capabilities in the areas of warm & cold form extrusion tooling, jigs, fixtures, cutting tools, hand tools, gages, special machines or existing machine alterations, control panels, machine programming and controls, machine refurbishing and retrofit.

Because of our expertise, we have established a reputation for providing a valuable service to automotive and other industries.

Engineering

At D&D Design our primary CAD systems are Unigraphics, Solid Edge and AutoCAD. We import models through STEP, IGES, and Parasolids from SDRC and Catia. If you require a different format call and we can probably help.

We use MasterCAM, our primary CAM system, to write programs to machine parts direct from solid models and surfaces with support for full 4-axis continuous motion contouring. Toolpaths are verified through a NC verify feature to verify toolpaths prior to cutting parts.

Our Ziess Eclipse CMM runs Calypso software and can inspect surfaces and solids directly to your CAD model.